Welcome to Wright's Food Service
Local Food Supplier since 1948
Wright's Food Service is a wholesale grocer and transport company located in Dawson Creek, British Columbia. We are a family owned business that takes great pride in serving a vast variety of industries including restaurants, camps, institutions, catering and businesses of many sizes. Wright's offers our customers a better choice in personal customer service as opposed to just another sale in the eyes of the national chains. Since 1948, we have grown by leaps and bounds and have established ourselves as a premier partner in the food service industry.
• Full wholesale grocery and warehouse services
• Accurate and fast delivery
• Ordering ease with great customer service
• Brand name products and unique product lines
Servicing Northern British Columbia, North West Territories and Alberta with an outstanding team of knowledgeable sales representatives and top of the line delivery fleet, Wright's does not intend to be known as just a supplier of premier products. We want to be identified as partners in your business.
Involved in the Community
Our commitment to excellence within Wright's Food Service doesn't end with customer service. Wright's is committed to helping make the communities we service a better place. Throughout the year, our people dedicate time, products, and money to various community organizations and events that make Northern British Columbia a better place to live. We understand the role we have and how our relationships with the businesses we maintain all make our community a better place.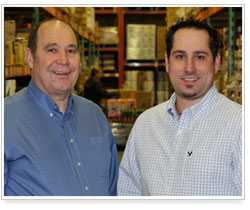 Wright's Owners, Del and Chris Webber
Being centrally located and family owned has allowed Wright's Food Service to offer our clients agility and great customer service. Our clients enjoy and have come to expect:
Ordering ease
Unique & special products and board lines
Brand-name products
Accurate and fast delivery
Learn more about the Wrights Advantage by contacting us.
Customer Service - It starts here
Our professional team of sales representatives are dedicated to providing the best customer service available in the industry. From the initial order right through to delivery you will find the people at Wright's knowledgeable and hard working to get the job done right for you.